Bitcoin (BTC) price appears on the verge of closing another week pinned below the $11,000 resistance but given the major events of the week, things could have been so much worse.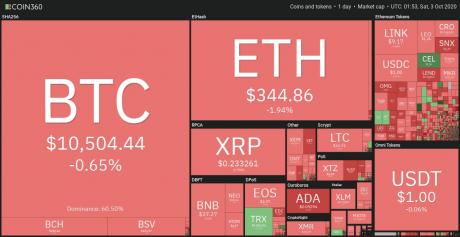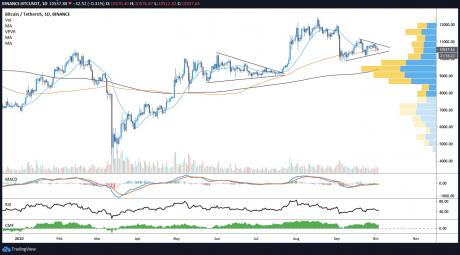 As has been the case for the past week, Bitcoin continues to compress within a symmetrical triangle and the price is holding above $10,500. 
The volume profile visible range (VPVR) on the daily chart shows a large $1,450 gap which is the length of the Sept. 3 candle where Bitcoin dropped from $11,400 to $9,950 and since this 13% correction the price has been pinned in this range.
Currently the relative strength index is slightly above 45 and the moving average convergence divergence shows the MACD on the verge of rolling over the signal line as sell volume increases. 
This is not overwhelmingly worrisome and from a bird's-eye view we can see the price is still making higher lows and lower highs as the price compresses. Although traders' sentiment may be bullish, the key ingredient missing at the moment is volume.
Keep calm and carry on
Regarding Bitcoin's current range, looking back to May 25-July 20 the price compressed within a similar symmetrical triangle before breaking out with a strong 36% rally which took the price to the 2020 high at $12,480. 
Traders are likely watching the current structure to see if a similar scenario is in the making. As mentioned in a previous analysis, holding above $10,380 will keep the price in the symmetrical triangle but below this level there has been demonstrated interest from buyers in the $10,200-$9,800 range. 
In the event of a bullish breakout, Bitcoin price still needs to take out multiple resistance levels at $11,000 all the way through $11,400, hence the need for a high volume spike to obliterate all the overhead resistance. 
Generally, no news is good news and price action-wise, Bitcoin has done nothing newsworthy over the past week. 
In fact, the surprising news about Bitcoin is its lack of downside during an eventful week filled with events which would have clobbered the price in years past.
Published in: Coin Telegraph